Post by PickyChicky on Jul 2, 2015 13:00:30 GMT -6
There is a problem that was discussed earlier this year on Etsy's forums about sellers' listings showing up in Google organic search results with some other site's URL. The results show their shop name or listing title and description, but the link points to some other site. I just noticed that this is happening with at least one of my new listings, so I thought I'd browse Etsy's forums for those discussions to see what I could find out.
Here is a screenshot I posted in another thread to show what I'm talking about. The link shown under my PurpleIrisClassics listing displays as a completely innocent site (not involved in the problem), but when you click on it, it takes you to yet another site, cases2015 (one of the worst offenders of redirects):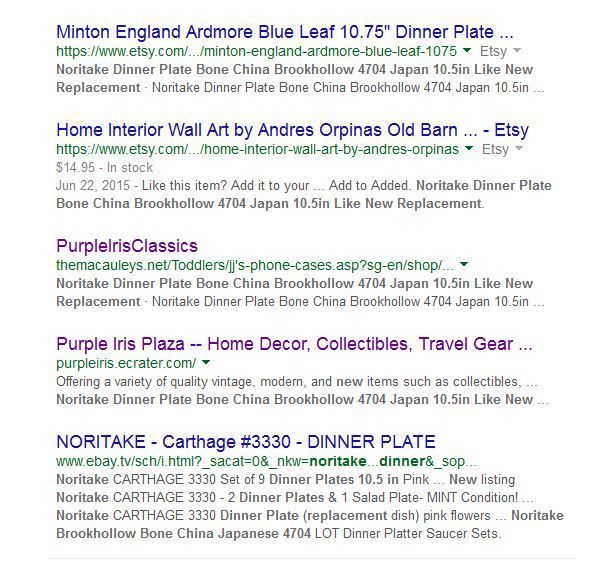 The following are key bits copied from Etsy Admin's and sellers' responses regarding this issue. Within the responses, you'll find information about how and why this is happening, what you can do to help Google resolve the problem, and other info to answer questions you may have now or as you go through the process. Do note that Etsy is not the only site having this issue -- it is known that all major marketplaces are having the same problem:
---
---
Matt Quirk from mattdaquirk 11:35 am Apr 12, 2015 EDT
(Etsy Admin)
This does appear to be a Google issue, and they are aware. They issued a resolution not long after it was first reported, but they may be experiencing further trouble. We are not privy to their internal processes, so we do not know the exact state of the issue.
---
Lori W from chillionaire 2:08 pm Apr 23, 2015 EDT
(Etsy Admin)
We understand the frustration is causing and we are continuing to do everything we can from our end to improve this situation. To clarify what's happening: these sites are "scraping" Etsy content and hosting it on their own sites. This article explains a bit how these spammy sites are functioning and why it's affecting Google results:
www.webopedia.com/TERM/B/Black_Hat_SEO.html
Unfortunately there are limited options available to us for stopping this, but we are certainly working through all possible reactive options. This includes identifying the problematic IPs and trying to limit their access. We're also submitting problematic links/spam reports to Google and investigating any possibilities to proactively prevent this.
Please understand that this is not just an issue that is affecting Etsy. Sites like Amazon, eBay, and other ecommerce sites are also subject to these spam tactics.
If you haven't already utilized the spam report, you are welcome to submit problematic links to Google here:
www.google.com/webmasters/tools/spamreportform?hl=en&pli=1
You will not need to be the "webmaster" of Etsy in order to do so.
Thank you for all your reports and the discussion! We certainly want Etsy to have the best possible SEO so we can bring even more buyers to our handmade (and vintage and supplies!) marketplace.
---
From an Etsy seller keeping track of the guilty sites. The list provided is of search terms you can use to check if any of your listings are affected (I'll add to it as I find where she added new ones):
JJ from Donobob 5:19 pm Apr 19, 2015 EDT
Updated search terms. Please add to it if you have new or differing search terms.
Put your "shopName" in quotes in front of these to search only your shop. Every one of these will reveal more Redirected links.
You may also want to put "-popular" on the end to eliminate some Etsy Search Links (first is a good example)
Etsy "proveelealestado" -popular
Etsy "springboardsandmore"
Etsy "where-to-get-ipod"
Etsy "socreuma"
etsy "bestdigitalcamerabrand"
Etsy iran
Etsy "sohanpaul"
Etsy "mrchip"
Etsy "cases"
Etsy "adhd"
Etsy "adhd-help-center"
Etsy "compasslineafrica"
Etsy "up-ipod-case.asp"
Etsy "ipad-mini-cases.asp"
Etsy "samsung-illusion-cases"
Etsy "image.frompo.com"
Etsy "keithg.brinkster"
Etsy "losangelesusedguitar.com"
Etsy "tiendaohana"
Etsy "nhpg.org"
Etsy "tiendaohana.com.ar"
Etsy "hybrid-ipod-touch-cases.asp"
Etsy "issuemanagement.com.ar"
Etsy "cell-phone-cases-conway-ar.asp"
and possibly
Etsy "chaussuresdefootfemme.asp"
Etsy "sparkle-ipod-cases.asp"
---
Tina from RusticGirlSupplies 11:42 pm Apr 19, 2015 EDT
It really bothers me that when google takes down the hijackers it leaves the link ruined with a 404. That is not helping the situation at all. Are we gonna have a bunch of dead links from this?
JJ from Donobob 11:43 pm Apr 19, 2015 EDT
Those dead links disappear once Google Crawlers repass. It can take a day or two. But they do disappear.
---
JJ from Donobob 10:01 am Apr 20, 2015 EDT
This Scrape attack is more a Google problem. They basically make a copy of a link and push it up to google, but the new copy is newer than your original and goes somewhere else.
Each link needs reported to Google (feedback, bottom left on search page) and then they will remove it. A bot can make millions of these in a few hours and reporting a few hundred can take an hour.
---
JJ from Donobob 3:46 pm Apr 20, 2015 EDT
It is duplicate [content] and the real links get buried because these ones are newer. The other concern is if a buyer tries to go to an item and always gets sent to a phone case site - why would they come back again. It is a really evil scam.
---
Meg from ME2Designs 3:20 pm Apr 20, 2015 EDT
I've sent more than 100 reports to Google in the last nine days about the masking & redirecting of my listings on Google (that started the first week of March). They are all showing the same thing today (masking & sneaky redirects). I've also compiled a tally of close to four million Etsy links that are currently masked & redirected on Google (sent the list to Etsy and to Google).
When
Ina from eCommerceBytes
posted on April 12th about what Scotty disclosed when he started this thread, she
noted that eCommerceBytes had discovered a sneaky redirect of large scale that had been undetected by Google in 2003. She noted that it took Google a couple of weeks to implement the "Florida dance" to eliminate the redirects, and that the redirecting incident had been written about in a book. She also noted that implementation of the "Florida dance" caused disruptions for online vendors.
Etsy has been in contact with Google, as many of us have been as well.
This is a Google issue, as spammers are manipulating and redirecting traffic on Google.
There are close to three dozen websites that are showing as the in-between mask when you look at the affected Etsy links on Google. If you click on the Etsy link it takes you to the phone cases site (or another site), but you can see the names of the other websites on the green line right below the Etsy link (some are even eBay and Amazon stores) or look at the cached page view, and they all have something to do with phone cases (and other things) right after the URL name.
Scotty and JJ and others have compiled lists on this thread of those secondary website names, and that's how we have found so many of the Etsy links that are redirected by spammers on Google who are manipulating traffic on Google.
---
Lots of good info in this one:
Scotty MC Jewelry from StitchInTimeJewelry 12:11 pm Apr 11, 2015 EDT
This disturbing and unfortunate find is/was discovered with an organic search by entering my shop name in full (as all one word) in the browser address (URL) bar at the top of our page... I perform searches this way to maximize results and self filter what I want to see from there...
A few have commented/mention the results of their search appears fine - all is as it should be... here is the deal, on the surface it does all look fine... and this is not a corrupted web-address issue on every single result that is listed...
[[an Example]] * * Page (1) 3 of 10 listed results are corrupted - Page (2) 9 of 10 - Page (3) 7 of 10 - Page (4) 2 of 10 - Page 5 through ___ None - the older, not relevant searches are not worth the offender masking over these links as these pages are typically never gone to anyway right?.
--BUT-- the results appear as this--
- the main "Title" in the list in large blue letters is right (the words are correct) and you can hover over it to see that the hyperlink to the page should work... mouse pointer change from arrow to hand or whatever...
- the second line in green is the area that has been corrupted - this is the address line to the top hyper-linked line... but in this case (while this problem exists) it is Not the correct address line... this is the part that has been corrupted by the offender(s)
- the address line has been edited to include the "redirect link" (the con or theft device if you will) which is what interferes with the intended results a potential customer that does a search will see...
- Next to this address line in green is a -down arrow- which links to the "cached" page (the original page) and low & behold minus a top banner in yellow showing information about the redirect rubbish the page comes up as the original page was intended
- - this is the page that I own, that I authored, that is about one item within my shop
- - the page that anyone/everyone is supposed to be able to trust they will see when clicking the link... the page that brings in that potential customer and Nets Us ALL an income!
Scotty MC Jewelry from StitchInTimeJewelry 11:17 am Apr 26, 2015 EDT
This problem is not actually rare.. just very subtle & therefore often goes unnoticed. "Redirected Links" // stolen web traffic has been around since the dawn of the internet - Redirection even happens internally when an item is Sold & "similar" item(s) from any other shop are suggested
★ a Collective Q & A from this & other related threads
www.etsy.com/teams/7720/bugs/discuss/16217044/page/21
Scotty MC Jewelry from StitchInTimeJewelry 11:29 am Apr 26, 2015 EDTthe Best Method to Report All redirected items you find is hit each one with a Double Report!

✓ First use this "Report Link" in a new Tab or Window
www.google.com/webmasters/tools/spamreportform?hl=en

✓ Then with the google search page still open also use the "Feedback" feature at the bottom of the pg & follow the steps to highlight a screen shot for the items you just reportedbetterwythage from BetterWythAge 5:09 pm Apr 27, 2015 EDT
You have to be a member or something to use that link, Scotty. Makes it pretty useless.
Scotty MC Jewelry from StitchInTimeJewelry 6:48 pm Apr 29, 2015 EDT
Actually that link is the one that works - this is a copy of the one first provided by Admin
there was confusion within this thread to some thinking this is a scam of "Scraping" which is a problem that only site administrators can report.. our issue being about "Redirects" is one we all can report and the more instances of reports made (in the thousands) the better impact we have collectively
---
Zhenne Wood from ZhennelandTreasures 6:57 pm Apr 20, 2015 EDT edited
Q: I'm thinking of deleting my 3 that are involved & relist them with a different title. I know I lose views, favorites & anything else, but all those are low on these 3 anyways. Just start over with those.
A: That will not remove the cached redirected link. You need to do the reporting to google & keep your 20cents
---
Scotty MC Jewelry from StitchInTimeJewelry 4:56 pm Apr 12, 2015 EDT
Okay folks OP here ... don't panic... here are a few helpful bullet points
- take a moment to read them and other conversations within this thread
- I have spent most of this weekend on this and from here forward will refer people via internal links to this page for this post... to try to address questions
★ Some say "I checked and I am not affected"
- Unfortunately You are... I assure you every single shop in Etsy is affected by this - it is a direct breech upon the listings on this site... one can not do a google search and see the list of results and simply say "I'm fine... my items are showing up!"
- That is not the problem - It is not until you click the link that you then find you are being shown a website that is not your page - the Redirect - the Misdirect to a Magician who is having you watch the right hand while palming a coin in the left
★ "What am I looking for?"
- in a browser search - I use google... you will see a list populated in a few seconds 9the wonderful power of google) that has every possible webpage your search words (terms, phrase, whatever) could bring up...
- you will see the main "Title" in large [[blue]] letters - this is the click-through link (hyperlink) that takes a person to the web page they intend to see... this info is correct and has not been changed - part of the sneaky theft
- under this line in [[green]] is the URL address - the website address or normally would be the site address to your page(s) * * this is the area that has been hijacked to redirect a possible shopper to somewhere else other than the intended site.
- under that is a short caption - the area that tells a possible viewer something to expect when clicking the link - this info is also correct and reads as it should
- off to the right of the [[green]] URL line is a drop-down arrow titled "cache" ...clicking on this brings a potential viewer to the correct page with a layered top header showing the fraud page information that has in essence stolen your traffic // your buyers
★ Some have said "This is or must be malware... don't click on the links"
- Not true - This problem is not a cyber security threat in the form of a Virus or Malware to harm your personal computer... it is a passive theft of your e-commerce traffic... nothing more!
- (example) A person looking for curtains sees your shop link in a browser search and clicks to see the webpage and instead gets a page of cell phone cases so they back out or close the page and give up on that link... so, what happened? - you guessed it... you lost a possible sale... that is it though no tangible damage except to loose a sale.
★ We need to report the pages to google - some have said, "When I report to google more pages pop up that weren't there before"
- that is true and exactly what is going to happen until the root of the problem - the offender(s) are squelched ...we are reporting manually and the cyber thief is linked with an automated bot system - they have it a lot easier... about 10 to 15 minuets of effort by the Hacker to create a code like this and this goes on and on until the server this hack is on is shut down.
★ What is a Redirect // Traffic theft // hijacked site links // google calls it "sneaky redirects" ... (kind of a passive way to describe such a theft of commerce)
Q. What is a Redirect // Traffic theft ??
A. here is a Visual -
This Act of Theft is like in the Charlie Chaplin or other comedic movies like Cannonball Run or Herbie the Love Bug where someone takes an old sign on a post at a fork in the road and spins it around to point the wrong way...
"such & such" town is to the left & the first 10 people (racers) see the sign and know that to be true... but driver # 10 stops and turns the sign on the post so that everyone else behind them will turn right instead and get lost.
★ "So this is a problem google needs to fix - this is not Etsy's fault"
- This is partly true - google can combat the problem - they have the power... the clout to go after the site(s) that are installing the redirect coding that hijacks your pages...
- but also once alerted to the problem this is also on Etsy webmasters plate (a to-do-list if you will) to author additional protections into the website platform to increase the site integrity to assure that all of our shops get the exposure we are paying to have in listing fees and final value fees if/when an item sells
★ Another Visual - think of it like this
- We are the shops directly affected by a lost sale
we are the renter / tenant operating a store in a mall responsible for offering goods for sale to the public
- Etsy is the host website indirectly affected by lost sales
they are the landlord responsible for maintenance and security like on any retail building
- google is the telephone book author - an advertising source
they are a third-party no more involved than the publishing company of the Yellow Pages Phone book
Site integrity is on Etsy to encrypt pages and build firewalls etc to ensure a link within remains unadulterated - the power to assist in site integrity and connect all points on the www is with google - the job to spend time selling great products is ours.
★ some have said, "Etsy is not going to do anything about this" -or- "google has to fix it ... why would they (Etsy) care?" -or- "Etsy won't fix this... they are not loosing any money on all the little shops"
- Not true - believe you me Etsy is involved once they are/were made aware of the problem they are working hard to be proactive with fixing it... very simply all e-commerce sites are driven by revenue as much as you or I selling items in small scale... we need our sales to make money... well - the listing fee of 0.20 cents charged is small potatoes, it is a tiny fraction of the overall revenue ... if your pages are hijacked then your items do not sell and the larger payment (the Final Valuation percentage) is not collected/paid
Hope this all helps - link to this post if you see someone needs assistance understanding some details...
★ I am off to attempt to author a few items and conduct other duties around the "Shop"
★ ★ Cheers to mutual success and this will all be sorted out at some point
---
Scotty MC Jewelry from StitchInTimeJewelry 9:53 am Apr 14, 2015 EDT
★ Another REALLY GREAT Point has been made a few times on here... Take notice on where each click takes you when checking a link... if you are not bought to one of the thief sites the site you are on is likely Great News!
- Before you report it recognize where you are... it is of great fortune when we are shared and promoted by other people with a Pin, Tweet, blog mention etc. !!
... the last thing you want to do is undo the Free advertising you have received by someone who genuinely admired your work, your item, your shop! - there is no efforts we can each make alone that will come close by a fraction to someone else telling their friends that they "like", "found", "want" an item

---
---
Okay, I've gone through several pages out of the 101 pages on this topic and think I've got about as much info as we need. I'll go through the above later to make sure it's clean enough so you're not having to read anything you don't need to. I'll also be contacting the one seller, Scotty MC, who's been most helpful to, pointing him to this thread (a public board), and asking if there's anything that needs to be added.
One last thing, remember that this is affecting more than just Etsy. One Etsy seller said the same thing is happening to her eCrater listings. Since my eCrater listings never seem to appear in search results, it doesn't appear that I have a problem there. I'm just now discovering the problem with the one Etsy listing of mine and am about to start using the search terms above to check the rest -- and I'll go ahead and do the same for eCrater just to be sure. I will certainly be reporting what I find to Google via the Webmasters Tool link provided above.
As was previously discussed in another thread, Etsy's category changes seem to have affected sellers' views. Unfortunately, that change took place at the same time the redirect problem started. So Etsy sellers got a double-whammy and it definitely explains why things have suddenly slowed for so many sellers there.
It would seem to be a miracle to get any sales there. The fact that I got 3 in 3 days was encouraging, but the fact that one of my newest listings is affected by this redirect problem has deflated any hope of getting anymore sales anytime soon. The Noritake plate listing affected is actually among the last small batch of items I recently listed there. I sure hope I don't find anymore issues.